My Lumix
Sunday, February 19, 2006
A friend today asked me "David, what happened to your blog?". Aiyo, I also don't know what I've been up tothese days. Sometimes when I've something to write, I can't seem to find time (and mood) to actually sitand compose an entry. By dusk, I'd have forgotten about that entry. Worse, sometimes I discard an entry after just one paragraph.
Since it's Sunday, I'm gonna just write an entry or two to wrap up the week (actually, I planned to take a nap :p). One of the things that has been keeping me busy has got to be my new toy.
You know the feeling of opening a new packaging, or any box/wrapper containing something you've just bought? I'm just gonna share that with you, from the box right down to the camera itself - a Panasonic Lumix FX9.
It comes bundled with the usual stuff, which include USB interfacing cable, AV cable, CD-ROM, charger, yadda yadda... I've been reading the manual. Some of you might wonder "Who on earth reads manuals?!?". In fact, I have friends who don't do that. Actually, if you want to squeeze every ounce of features that come with the camera (or any other electronic device), the manual helps a great deal. Make full use of the camera's capabilities mah.
Imagine the ecstasy when the sales assistant opened the box to check the contents. This little thing, still in its wrappers, was as if screaming for me to hold it. It's colour - black - was clearly visible from where I stood. I picked black over silver. The black surfaces are kinda rubbery, and they feel grippy. Maroon was not available at the time of purchase. I wasn't interested in maroon colour anyway.
There is also a carrying case supplied - and it's made of leather. I thought it was uncle-ish. Sis also pointed out to me that the case could be strapped onto a waistbelt. That confirmed the uncle-ish-ness of it all. But then again, a carrying case/pouch made of soft fabric wouldn't be able to properly protect the camera. Besides, the fabric may rub against the surfaces of the camera and the friction may cause some electrostatic reaction. This is why we're also provided the microfiber cloth to clean the camera.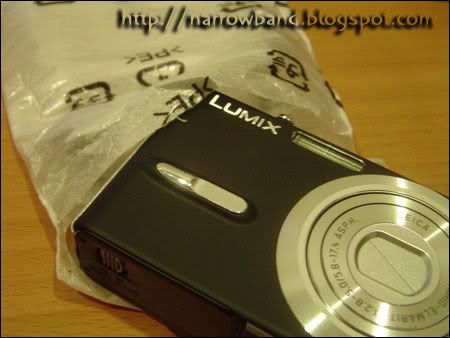 Finally, the Lumix is out of the box, and its wrapper. I've never owned such a sophisticated cam before - you can say that it's an upgrade from the previous camera we bought (duh, who'd go for a downgrade?). Some of the features that come with it are interesting, and very cool. For example, you can set the light exposure, shutter speed (in one of the night modes), add audio recording to your photos taken, and so on.
The manual also provides tips when taking various types of photos. I love taking in macro mode, where the focus is on small objects, leaving the background slightly blurry. That large LCD screen is amazing. It's about 3 to 4 times larger than my old camera. The buttons (that up-down-left-right one) are quite closely-spaced - with a fat thumb like mine, usually the finernail works best.
Don't be fooled by the size of the flash. It's quite bright, really. Leica is one of the leading brands in camera lens manufaturing. The view from the front... sexy, isn't it? Woo~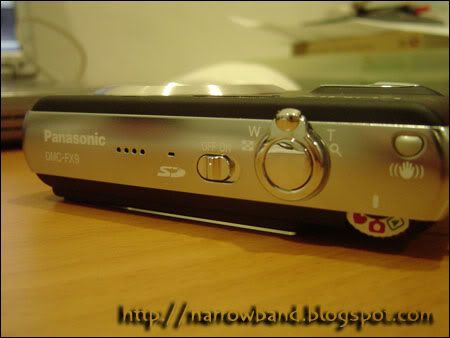 Those 4 holes are the speaker, and the single hole is a microphone. The camera records videos in Quicktime format. The package comes with a 16MB SD Card, and the sales lady also offered a 512MB one. I asked for a 1GB card instead, which was about RM100 more than the 512MB. Other miscellaneous stuff include the LCD screen protector and straps.
It's one helluva camera - I love it to bits! From now on, this is gonna be one of my main blogging tools!