Would've Rotten If It Wasn't For Today
Wednesday, December 08, 2004
After posting the entry on how anacondas and crocodiles make love last night, I went straight to bed and slept like pig. It was already 2am plus, and I had to wake up at 7am plus this morning. I picked Steph up before headed towards OUG, where Hing How was already all nicely dressed up, awaiting us. A text from Liwei said that she and Elaine were still in the train, on their way.
Starving (as we planned to take breakfast together), we drove to the Seputeh stop (right before MidValley) and waited. The two from Seremban arrived at almost 9.45 - you can tell how long we had waiting, and starved. We had our breakfast in some morning market near Imbi Road - and crap, it was so damn crowded. Food was good though - especially the toasted breads, awesome. Thanks to Hing How's recommendation, that is.
We watched The Polar Express at the IMAX theatre, and... we were wowed. Big stuff indeed - the cinema and all. Will talk about the theatre later.
We had snack (tea) in Secret Recipe after the movie - which, about 2 hours later, we realised we'd made the wrong move. Our clothes stank! For some reason, the place was real stuffy inside. There were not many customers - wonder what the heck was going on in the kitchen. We were practically stoning - contemplating whether to watch another flick somewhere else. We knew the Shutter was given good reviews, hence recommended. We ended up in Steph's place instead.
Sent Steph back home in Sg Buloh - spent some 'quality' time fostering "close housemateship". Boy, I had forgotten the last time I played Uno Stacko!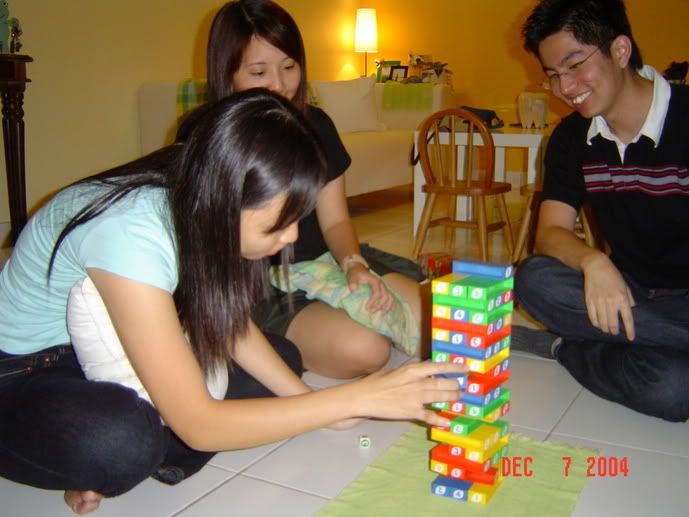 After a coupla rounds, it was time for dinner. A tiring day, an enjoyable outing. More importantly, and more often that not, it's the company that matters most!