Malaysia's Recent Top 3 Boleh's
Thursday, November 18, 2004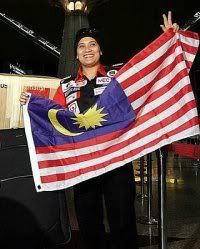 A Malaysian Woman For A Yet Another Extraordinary Feat!
Universiti Teknologi Mara (UiTM) lecturer, Datin Paduka Sharifah Mazlina Syed Abdul Kadir, 39, is set to become the first Asian woman to ski-sail from the South Pole to Hercules Inlet (western edge of Antarctica). She is to begin her 1,100km, 30-day solo expedition on the 4th of December. "I am mentally and physically prepared. I will be ski-sailing (skiing without poles and relying on a sail for propulsion) a minimum of 40km each day over a period of between seven and eight hours,'' she said. You can send your well-wishes to her through her website.
A Cup Of Teh-Tarik In Space, Anyone?
Fancy a trip to the outer space? Soon (or so it's claimed), space tourism will no longer be impossible, in Malaysia - with a cool fee of about RM70,000. Bristol Spaceplanes Ltd hopes to build Asia's first launch pad for space pods in Ipoh. The project would cost RM480million. If (ever) approved, the launch pad would be built for the RM100mil Ascender sub-orbital space plane. Your RM50,000-RM70,000 trip would bring you to an altitude of about of 100km, and back in about 90 minutes. You can't take more than a friend along in one trip, though. The plane only fits four: two crew members and two passengers.
Kancil Boleh!
Who ever said that Kancils are too small for practical use? Don't underestimate this Malaysian treasure - You can fit 15 passengers into two Kancils (7 in one, 8 in the other, presumably). Forget the Naza Ria or the Toyota Avanza. Kancil fits 8 alright! Not only that - the Kancil became an instant star when a couple was interrupted while having sex in the backseat of the woman's humble ride. I'm sure all of you remember this story. Poor 20-year-old woman (u'huh, she's my age!), and lucky mysterious boyfriend. This story shot to stardom a few months back. Remember the next time you're caught-in-the-act, don't panic or else you'll rise to instant fame. By the way, you can also count on the Kancil's toughness - The woman rammed into a police motorcycle, and drove for "several miles"!
Jokes aside, my condolences go to the family members of those who died in the Raya exodus.