MY FM 7th Annv Live Band Concert In Genting
Sunday, September 11, 2005
I was in Genting for MY FM's 7th anniversary celebrations last night. Took lotsa pics and a coupla videos with my humble good ol' Cybershot digicam.
To be really honest, I'm not a big fan of any of the artistes... I just know them, because I listen to this radio station, of course. Almost all too often.
We were ushered into the Arena of Stars and I found myself star-struck. I couldn't imagine how near I was to the stage, it was like... what, 5 steps away?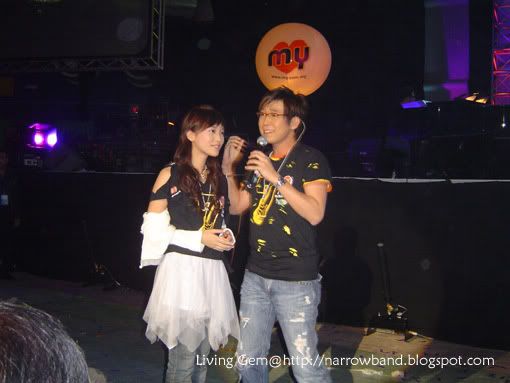 Ping Guan
(å"å† ) was the first to perform. He belted, among others,
Hou Lai De Wo Men
(后来的我们) and
Shen Bian
(originally a duet with
Guang Liang
), which he sang with one of the deejays. At one point he walked down the stage and went to
Jin Sha
(金莎) (in pic).
And the fans just couldn't get enough of him...
Next up was the duo
Yuan Wei Jue Xing
(元卫觉醒), who sang a few songs, including their famous hit,
Xia Tian De Feng
(夏天的风).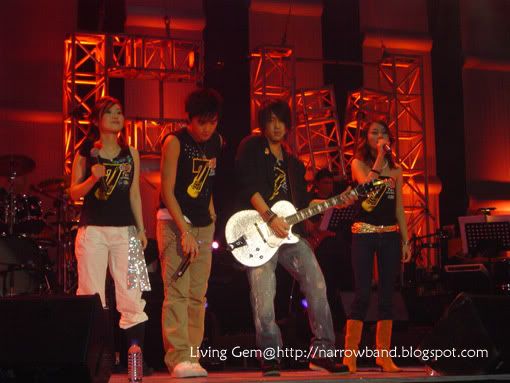 Later, they were joined by deejays
Phoebe
and
Mei Yan
.
Jin Sha
, seen here performing
Bei Feng Chui Guo De Xia Tian
(被风吹过的夏天) with
Zhong Shen Zhong
(é'Ÿç››å¿ ). Her original duet partner of this song, Singaporean
Lin Jun Jie
(林俊杰) was not present, citing a tight schedule.
You won't believe how pretty
Jin Sha
is in person... OMG. She sat just two rows in front us, together with the rest of the artistes.
Local R&B hype,
Zhang Zhi Chen
(å¼ æ™ºæˆ) made his first appearance and sang a few songs in Cantonese (duet with deejay
Jack Lim
). He also performed
Mo Ri Zhi Lian
and
Ling Chen San Dian Zhong
.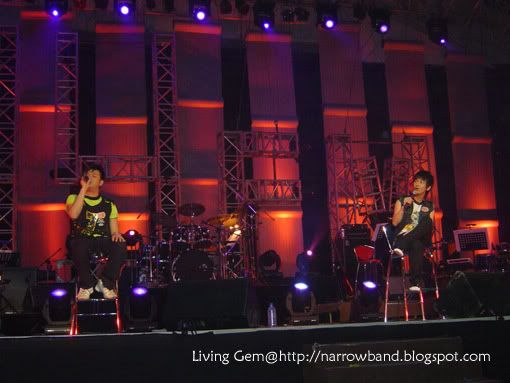 That's pretty much the first half of the show. Gonna upload more pics later (Part 2). Cheers!