Pluses & Minuses Of Google Talk
Wednesday, August 24, 2005
Save the descriptions, they're all over the net.
Pluses
- Clear sound. Very good Skype replacement.
- Simple (no annoying "cute" emoticons)
- Also functions as Gmail notifier.
- Because of its simplicity, it doesn't take up as much RAM as MSN or YM.
- Advert-free
- No "Search the WWW" field. I never use this on my MSN or YM. I search in my browser.
Minuses
- No conferencing
- No file transfering
- No video-conferencing (requires webcam feature)
Here's a snapshot: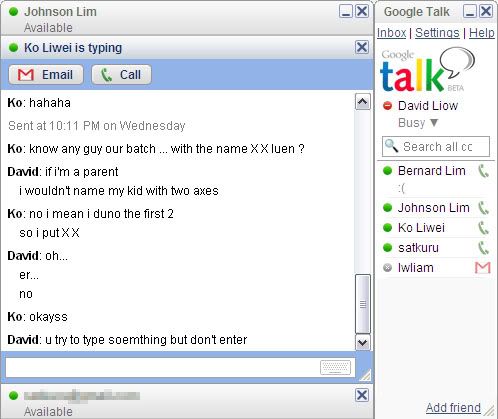 Conclusion
I started using just about 2 hours ago. Its main, strongest, best feature is of course the free web phone - very clear audio. U've gotta try it out, it
freagin'
ROCKS! Very pleasant user-interface, too.
Download
Google Talk
now! The setup file is only 900KB!