TopGear Bashes E60 BMW M5
Saturday, August 13, 2005
I blogged about the E60 M5 earlier this year (
click over
for a my write-up on the car, and high-resolution images). This morning, a friend alerted me on TopGear's review of the
M5
(yes, it was aired in July - I'm a lil outdated alright).
I downloaded the video from
AutoSpies.com
(direct link:
here
).
No doubt, it is very techy car. And Jeremy Clarkson hated the techy-side of this car. I had a hearty laugh watching the video.
"It's a good job this is a powerful car because by the time you finish fiddling with all the computer stuff, you'll have alotta time to make up."
To be honest, I have read alot about the computer stuff in the M5 - it's a little bit of a turn-off for most people. The engine, however, is marvellous - in the "Power" mode, at least. You should see how the car was driven around the track - totally punishing. But all sorts of error lights and indicators began to light up, Jeremy said.
Towards the end of the video, the Jeremy said...
"This is one of the ugliest and most annoying cars in the world. But at the touch of a button it becomes one of the very best... It becomes an M5."
Unsurprising - its engine has
won the 2005 International Engine Of The Year Award
(via
Paultan.org
).
Personally, I love the M5. I mean, you get something more powerful than (and has twice as many doors as) the
Ferrari F430
, at half its price! I don't find it (the E60 5 Series in general) ugly, if you consider an AC Schnitzer-modded version: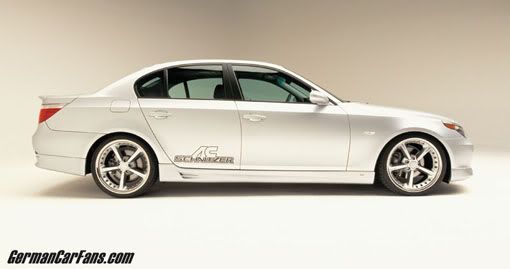 This is just an ordinary 5-Series, kitted with
AC Schnitzer
bodykit. The absence of the trademark M5-fin behind the front wheel arch is one of the ways to tell that it's not an M5.
I realised that Jeremy is damn good at trashing cars (another one being our very own Bolehan,
the Proton Savvy
). Entertaining, though.
Related entries:
1.
Awesome Fourth-Gen M5
2.
Ferrari F430